ASX to rise, Wall Street rallies, bitcoin leaps higher
3 min read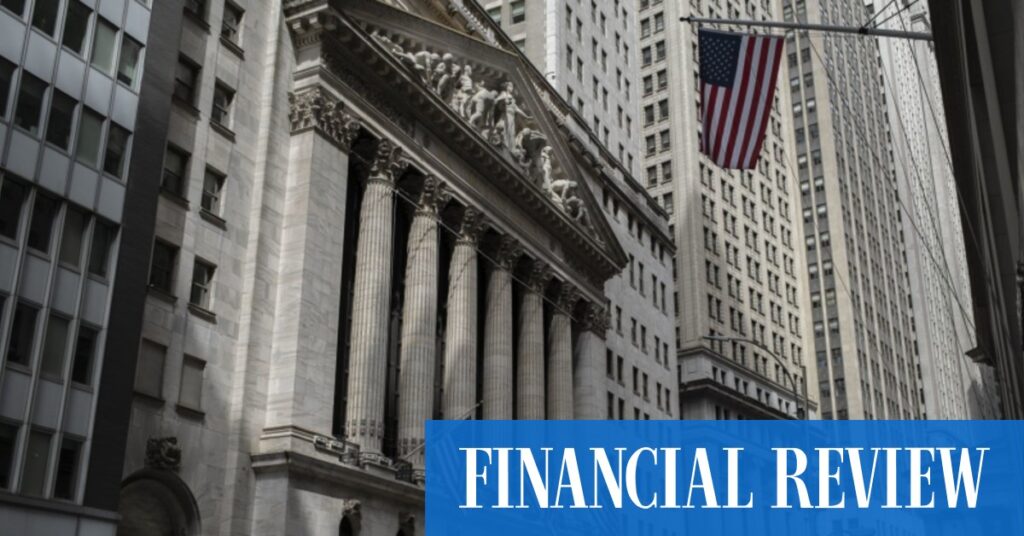 In a post on "X", Jason Furman said: "The immaculate loosening of the labour market continues as the quits rate hits a landmark 2.3 per cent in July, which is where it was prior to COVID. The quits rate is a good predictor of inflation–and a good benchmark for how workers are perceiving the labour market."
The local currency rose 0.6 per cent, recovering above US64.60¢; the Bloomberg dollar spot index slipped 0.3 per cent.
On bitstamp.net, bitcoin was 7 per cent higher to $US27,933 at 4.37am AEST; it briefly traded above $US28,000.
Grayscale Investments LLC moved closer to launching a spot-based bitcoin exchange-traded fund in the US, a potential watershed moment in the cryptocurrency industry's quest to tap billions of dollars from everyday investors.
A three-judge appeals panel in Washington on Tuesday overturned a decision by the US Securities and Exchange Commission to block the ETF, which would be tied to the spot bitcoin price.
The yield on the US 10-year note fell 7 basis points to 4.13 per cent near 2.30pm in New York.
Today's agenda
Local: Construction work done second quarter at 11.30am, Building approvals July at 11.30am, Monthly CPI indicator July at 11.30am
Overseas data: NZ building permits at 8.45am; Eurozone August consumer and economic confidence at 7pm; Eurozone August CPI at 10pm; US August ADP report at 10.15pm, Second quarter annualised GDP at 10.30pm, July pending home sales
Other top stories
Mining lobby gatecrashes Labor's hopes in the west The mining lobby has accused the government of jeopardising the critical minerals boom upon which the country's economic future hinges.
1.3m Australians may be paying tax they don't have to Superannuation accounts worth $225 billion have not been switched to their pension phase despite their owners reaching age 65 and becoming eligible for tax-free benefits.
Aviation cut from competition review amid Qatar row The Albanese government insists it wants to see airfares come down and airline performance improve despite a carve-out from its review run by Danielle Wood and Rod Sims.
German giant pledges $6b in green energy push RWE CEO Markus Krebber briefed Prime Minister Anthony Albanese on the company's plans to add 3 gigawatts of renewable energy and storage in Australia by 2030.
Market highlights
ASX futures up 33 points or 0.46% to 7195 near 4.30am AEST
AUD +0.6% to 64.67 US centsBitcoin +7% to $US27,933 at 4.37am AESTOn Wall St at 2.35pm: Dow +0.7% S&P +1.3% Nasdaq +1.7%In New York: BHP +1.9% Rio +0.6% Atlassian +4%Tesla +6.6% Apple +2.2% Amazon +1% Mea +2.6%Alphabet +2.6% Nvidia +4.6% NYSE Fang +2.9%Stoxx 50 +0.8% FTSE +1.7% CAC +0.7% DAX +0.9%Spot gold +0.8% to $US1935.42/oz at 2.27pm in New YorkBrent crude +1% to $US85.27 a barrelIron ore +0.1% to $US110.30 a tonne10-year yield: US 4.13% Australia 4.10% Germany 2.51%US prices as of 2.29pm in New York
United States
Apple to launch iPhone 15, Series 9 Watches on September 12 Apple is under more pressure than usual with this iPhone launch after three straight quarters of sliding sales.
US court paves way for spot bitcoin ETF in Grayscale ruling The ruling, by a three-judge panel, marks a major legal win for the crypto industry and sent the price of bitcoin surging. The decision could still be appealed.
US firms say rising risks are making China uninvestable US Commerce Secretary Gina Raimondo pointed to new challenges such as fines as well as continuing issues such as intellectual-property theft.
Commodities
Europe's strongest ally to check gas prices: extremely weak demand With consumption low and LNG supply so far plentiful, Europe has been able to inject a record amount of gas into underground storage.
Rolling strike action looms at Chevron gas plants Unions say they will undertake rolling stoppages of up to 11-hours a day at Chevron's Gorgon and Wheatstone LNG projects in a threat to global gas supply.
Lynas hit with cost blowout on rare earths plant Rare earths producer Lynas says a blowout won't derail its plans to secure new mines and build downstream capacity in Texas in partnership with the Pentagon.
Source link

#ASX #rise #Wall #Street #rallies #bitcoin #leaps #higher