Bitcoin attempts $37K breakout, again (Cryptocurrency:BTC-USD)
1 min read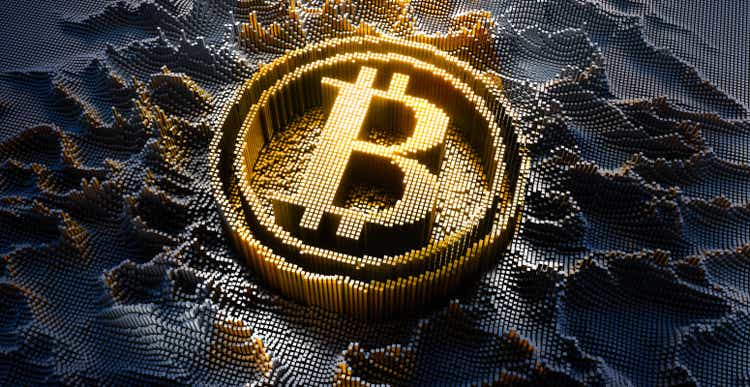 peterschreiber.media/iStock via Getty Images
Bitcoin (BTC-USD) is breaking above a key technical level in Monday midday trading, giving a boost to a slew of cryptocurrency-related stocks.
The highest-profile token (BTC-USD) advanced 1.7% to $37.2K at 12:13 p.m. ET, after reaching as high as $36.6K earlier in the session. Bitcoin has flirted with the $37K mark numerous times this month, though it has failed to fully break out.
The upswing comes shortly after Javier Milei, a pro-bitcoin (BTC-USD) candidate, won Argentina's presidential election. Although Milei has not proposed making the coin legal tender in the country, he is seeking to shutter the central bank.
Overall, the global crypto market value increased 1.7% to $1.42T, according to data from CoinMarketCap. Ethereum (ETH-USD), the largest altcoin, rose 2.5% to $2.02K at the time of writing.
Crypto-linked stocks in the green include: MicroStrategy (MSTR) +3.1%, Coinbase (COIN) +4.4%, Bakkt (BKKT) +18.5%, Core Scientific (OTCPK:CORZQ) +8.5%, Riot Platforms (RIOT) +4.4% and Marathon Digital (MARA) +2.6%.
More on the Crypto Market
Source link

#Bitcoin #attempts #37K #breakout #CryptocurrencyBTCUSD