RIT Dubai student entrepreneur launches real estate summit in the metaverse

4 min read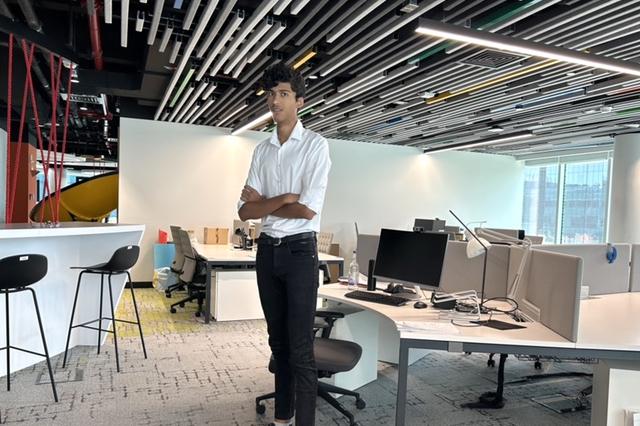 Dubai, UAE: A student from the Department of Electrical Engineering and Computing at Rochester Institute of Technology (RIT) Dubai is preparing to launch the first edition of a one-of-a-kind real estate summit in the metaverse. Senior Computing Security major, Volston Abreo, is convening Real Estate Worldscape 2023, to support education and knowledge sharing in the sector, and to help shape the future property market in Dubai. The event will be staged via a hyper-realistic virtual 'stage' featuring communication through voice chat and proximity chat systems. The platform has been developed by Volston and his team with funding from RIT Dubai, in collaboration with the Mohammed Bin Rashid Smart Learning Program (MBRLP). 
Aimed at those who are involved or interested in Dubai's real estate market, Real Estate Worldscape 2023 will bring together globally renowned thinkers, policy makers, developers and decision makers to support the advancement of the sector in the city. Delegates will have the opportunity to hear from over 20 inspirational speakers through workshops, panel discussions, and Q&A sessions, exploring topics related to real estate, proptech, investing and entrepreneurship. 
The metaverse conference will also offer delegates an opportunity to take part in a unique, virtual simulation, to learn how to buy properties at the right time and to spot emerging opportunities by understanding market behavior and economic trends. With over 550 properties to invest in, the simulation helps participants to think like an informed real estate investor and build wealth in the Dubai marketplace. 
Explaining the background and the thinking behind the summit, 21-year-old Volston said, "The inspiration for our virtual stage, Flege, came during the pandemic, when we saw the potential of the metaverse in creating an ecosystem where people connect to physical experiences through the virtual world. I decided to focus on the real estate sector to help launch the ecosystem because it is one of the most established industries here, and yet it has been slow in the uptake of innovation. I wanted to change the mindset of people in the business, to show the value of bringing technology into the sector."
Ensuring accessibility and ease of joining the summit, all delegates will need is a laptop and reliable WiFi connection. Explaining how the immersive experience will offer game-like simulations to promote learning, Volston said, "Participants will enter a digital twin of Dubai where their goal is to achieve cashflow by analyzing market trends and making sound decisions to buy and sell properties at the right time and from the right place."
He continued, "The simulation takes you back to 2012, when Dubai was just recovering from the global financial crisis. Participants take on the role of a typical individual with an average income, positioned in an environment where they can understand basic market and economic trends. 2012 was a year with a world of opportunities for building wealth in real estate, when the UAE submitted an official bid to host World Expo 2020, yet few of us saw this as an opportunity." 
Volston's project is one of a number of ground-breaking initiatives being supported through the innovation ecosystem at RIT Dubai. University President, Dr. Yousef Al-Assaf, explained, "We recognize our role in helping to diversify the economy, as well as ensuring our graduates can build fulfilling careers. To facilitate this, we have developed an ecosystem that provides an innovation journey for every student, to explore entrepreneurship and to create opportunities to take their ideas forward." 
He continued, "Within this ecosystem we offer academic, business start-up and mentoring support, in addition to financial resources, with the backing of funds from the Mohammed Bin Rashid Smart Learning Program. We are then able to connect these innovative start-ups with the broader technology ecosystem across Dubai Silicon Oasis, to access wider support so they can ultimately establish themselves as a successful business."
Already integrated into the Dubai Silicon Oasis ecosystem, Volston has his own office space there and has a team of seven working under him. Though he is yet to graduate from RIT Dubai, Volston says he has his sights firmly set on building the decentralized digital ecosystem that will provide a gateway to endless possibilities. The Real Estate Worldscape 2023 is due to take place later this month, marking the launch of his long-term ambitions for the future.
-Ends-
About RIT Dubai
Established in 2008, RIT Dubai is a not-for-profit global campus of the esteemed Rochester Institute of Technology in New York, one of the world's leading technological-focused universities with a storied 185 year history. Entering its next stage of growth in the region, RIT Dubai is now operating from phase one of its new $136 million state-of-the-art campus development, which will provide interactive learning space set over 129,000 square meters.
RIT Dubai offers highly valued Bachelor's and Master's degrees in business and leadership, engineering, and computing. The curriculum provides students with relevant work experience through an innovative cooperative education program that helps students stand out in today's highly competitive job market. RIT Dubai offers American degrees, and all of RIT's programs are UAE Ministry accredited. Students of RIT Dubai also have the unique opportunity to choose to study abroad at the main campus in New York or at one of its other global campuses.
Source link
#RIT #Dubai #student #entrepreneur #launches #real #estate #summit #metaverse