Students Sharpen Business and Marketing Skills with Quick-Fire LEGO Challenge
3 min read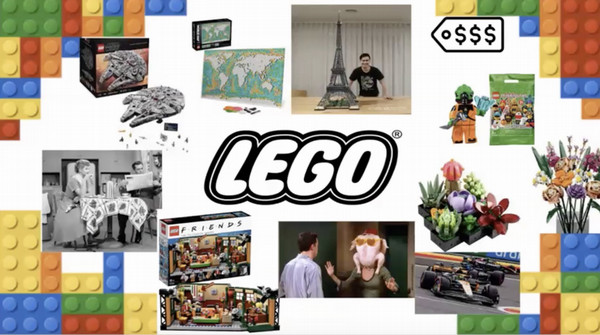 "This Quick-Fire Challenge is designed to give students of all ages, experience levels, and academic interests the chance to see how they can use their liberal arts skills to solve real world business challenges," explained CXD Senior Associate Director Lisa Noble, who organized the event. "This involves bringing new products to market, entering new markets, refining their communication strategies to attract new customers. And what's more," she added, "they have just two hours to do this."
Before the teams embarked on the Quick-Fire Challenge, Moynihan had the following words of advice: "At the end of the day, if the product is not actually delivering on something really cool and fun for consumers, then it's really not worthwhile. So that should definitely be your north star as you go through both of these challenges."
"We were able to draw upon each of our own personal and educational experiences to tackle a problem that we had no prior knowledge of and very little time to solve. It really showcases how Bowdoin's liberal arts education prepares students to think critically, solve complex problems, and excel in collaborative environments." Carlton Steinburg '24. 
The Winners
"Our group proposed a LEGO metaverse in which users can create original builds online and compete in weekly challenges for the chance to win a physical set," said Lexi Ashraf '24, whose team won the prize for best presentation in how they tackled the first task. Teammate Julie Janssen '26 explained: "Our metaverse game safely combines creativity, friendship, and fun and links it all to Epic, and most importantly, LEGO."
Another team member was Emmanuel Nwodo '27, one of the handful of incoming first-years who took part in the challenge. "This experience allowed my group to problem-solve, think outside the box, and collaborate. I definitely improved my ability to articulate myself, which was essential in coming up with our pitch," said Nwodo.
Rising sophomore Mishra Shibali's team earned the title of "most creative" for its approach to challenge number two, which asks how to grow the adult consumer market. "Our group aimed to honor the gift-giving tradition among adults, recognizing the challenges of finding meaningful presents as we grow older. With a focus on capturing the delight and surprise of receiving a personalized gift, we put forth the idea of LEGO offering a 'Build Your Own LEGO Set' service," she said.
Teammate Carlton Steinburg '24 was impressed with how well they all pulled together. "We were able to draw upon each of our own personal and educational experiences to tackle a problem that we had no prior knowledge of and very little time to solve. It really showcases how Bowdoin's liberal arts education prepares students to think critically, solve complex problems, and excel in collaborative environments."
Laila Samuel '27, Wilson Thors '25, and Thors's classmate Jess Klein were all members of the team awarded the "most collaborative" prize for how they tackled the first challenge. "We were challenged with creating a kid-friendly online game," explained Samuel. "We pitched 'LEGOverse,' which would allow kids to use digital bricks to build and share creations with their friends. Kids would be able to scan real-life creations and put them into LEGOverse," he explained, "as well as order the parts to assemble digital creations in real life."
Source link
#Students #Sharpen #Business #Marketing #Skills #QuickFire #LEGO #Challenge