Unveiling the Future of Automotive: The Metaverse Motor
3 min read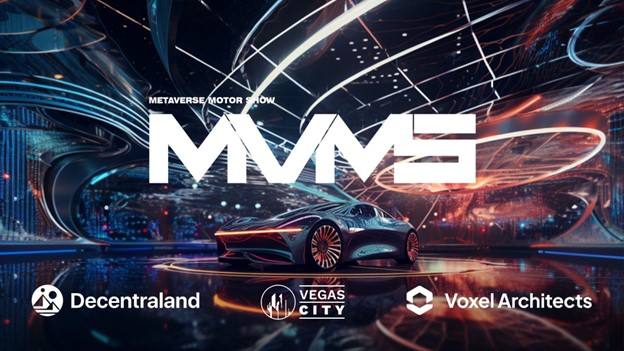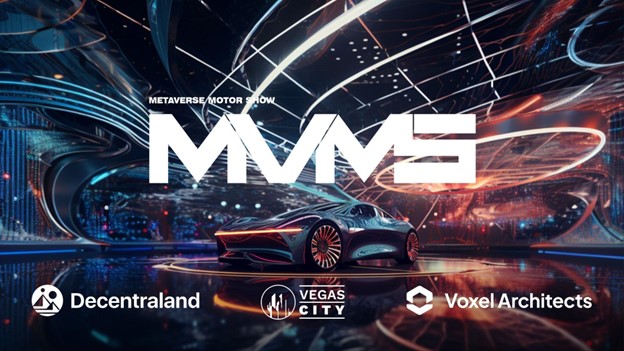 NEW YORK, Sept. 07, 2023 (GLOBE NEWSWIRE) — Leading virtual worlds Decentraland, Vegas City, and innovative digital architecture studio, Voxel Architects, are partnering to create the biggest automotive event in the history of the Metaverse: The Metaverse Motor Show 2024 (MVMS 2024). This collaboration aims to connect automotive enthusiasts, world-renowned car brands, and the global metaverse community to demonstrate the future of personal transportation.
MVMS24, slated for launch in February 2024, promises to be the ultimate convergence of technology, art, and imagination. By combining the expertise of Decentraland, the largest decentralized Metaverse, Vegas City, the pinnacle of gaming districts, and Voxel Architects, the renowned Metaverse-native digital architecture studio, this event will mark a new era for the automotive industry.
Hosted on an 800-parcel Estate within Decentraland, the MVMS 2024 will introduce an innovative approach to fan engagement, brand promotion, and experiential automotive showcases. With an array of features that include car runway shows, real-life car displays, wearable collections, live conferences, and live racetrack races, this event is poised to revolutionize how car lovers and automotive brands interact.
Sam Hamilton, Creative Director Decentraland Foundation expressed excitement about the potential of MVMS 2024, stating, "MVMS 2024 is a manifestation of the limitless possibilities that arise from the synergy of technology, design, and community. Our team is thrilled to create a visionary venue that will not only redefine how car enthusiasts experience automotive events but also pioneer the fusion of virtual and physical realities."
The MVMS 2024 represents a transformative journey into the future of automotive innovation. The event will facilitate unprecedented interactions between brands and their digitally native audiences. Automotive enthusiasts worldwide will witness a week-long celebration that blends reality and imagination, as cars take center stage in a Metaverse built for engagement, inspiration, and collaboration.
Brands participating in the MVMS 2024 will have the unique opportunity to embrace the next-generation internet, explore innovative Web3 fan engagement strategies, and pioneer new monetization models using NFT technology and exclusive ticket-access experiences.
Vegas City and Voxel Architects will design an exceptional event venue that mirrors the innovative spirit of the MVMS 2024. The organic-shaped building, surrounded by a racetrack, will host a central stage connected to brand plazas and pavilions that showcase iconic automotive brands in captivating and interactive ways.
The MVMS 2024 is more than an event; it's a leap into the uncharted territories of automotive experiences. This is the future of automotive innovation, and the world is invited to be a part of history. Vroom Vroom.
About Decentraland
Decentraland is the first decentralized Metaverse built, governed, and owned by its users and creators. With renowned brands like Coca-Cola, Sotheby's, Vogue, and more, Decentraland offers unparalleled opportunities for brand engagement and community building.
About Vegas City
Vegas City, the largest gaming district in Decentraland, offers prime real estate and exciting venues. As a pioneer in the virtual social platform space, Vegas City presents a dynamic and engaging experience for virtual world enthusiasts.
About Voxel Architects
Voxel Architects is a Metaverse-native digital architecture studio and a benchmark in the creation of immersive experiences. With a diverse portfolio of clients, Voxel Architects is at the forefront of designing transformative virtual spaces for leading brands.
Media Contact: press@decentraland.org
A photo accompanying this announcement is available at: https://www.globenewswire.com/NewsRoom/AttachmentNg/d3bb869d-bb00-4f60-b2fe-bb763e56c06a

Source link
#Unveiling #Future #Automotive #Metaverse #Motor