Inspect partners with Ronin to Empower Multi-Chain
3 min read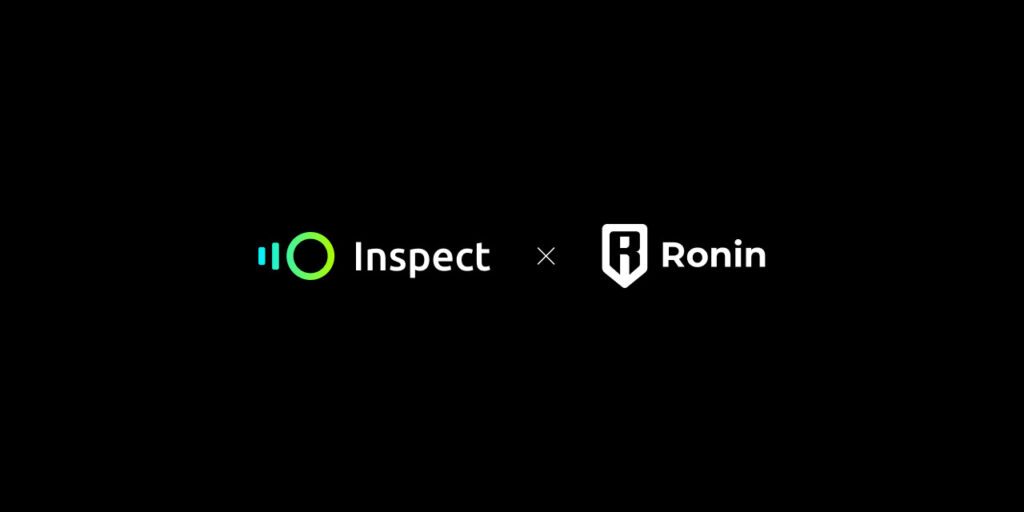 Victoria, Seychelles, Sept. 08, 2023 (GLOBE NEWSWIRE) —
 Inspect, a leading force in Web3 and NFT technology, empowering users with insightful social sentiment analysis, proudly unveils a game-changing alliance with Ronin. This collaboration aims to integrate Ronin-based NFTs to continue Inspect's vision to nurture a diverse and inclusive environment.
Inspect has maintained its commitment to empowering its community to discover the full depth of the NFT market by crafting cutting-edge tools and expanding its offering through partnerships to enhance users' understanding of the Ronin NFT ecosystem. Users will have the opportunity to delve into captivating collections, ranging from the well-established Axie Infinity, an industry icon, to emerging ones like Genkai by CyberKongs. In collaboration with Ronin, Inspect aims to expand its reach and cultivate a more diverse and interconnected ecosystem. This collaboration allows both sides to leverage their combined expertise, resources, and tech to boost adoption and enhance user experiences for their communities.
Jeff Zirlin, Co-founder of Ronin Network, Sky Mavis, said: "Inspect is a vital tool for measuring the size and strength of NFT communities. We're proud to have Ronin join the platform and are excited to start digging into the data produced."
The primary objectives of the partnership with Ronin are outlined below:
By integrating Ronin-based NFTs into the Inspect platform, we enhance chain accessibility and offer Inspect users an opportunity to explore a new NFT ecosystem. Expose Inspect users to thought leaders within the Ronin ecosystem, enabling them to deepen their understanding of the space Further NFT and blockchain adoption through cooperating on educational initiatives and investigating new use cases to propel the advancement of Web3 markets
Allan Satim, Head of Business Development, Inspect, said: "Our partnership with Ronin marks a pivotal moment in the evolution of NFTs and Web3 technology. Together, we're unlocking new dimensions of creativity and accessibility in the NFT space. This alliance embodies our unwavering commitment to empower our community with a richer, more inclusive NFT experience. We look forward to this journey of exploration and innovation with Ronin, as we bring forth exciting opportunities and foster an even stronger bond within the NFT ecosystem."
About Inspect
Inspect stands as the ultimate platform for navigating the dynamic cryptocurrency landscape, harnessing the capabilities of Web3 Social Intelligence. Powered by cutting-edge technology, Inspect offers seamless ways to engage with your cryptocurrency community, track community growth, and stay abreast of influential figures within the industry. This comprehensive social analytics tool equips artists, investors, and enthusiasts with indispensable insights into the Cryptocurrency market, enabling them to make informed decisions and stay ahead of industry trends.
About Ronin
Ronin Network was built with five years of learnings from Axie Infinity and guided by the understanding that gaming infrastructure must be built by those who need it the most, with their own requirements in mind. Ronin comes equipped with a fervent community, protocol-enforced creator royalties, and millions of existing wallet users, making it the best place to launch a Web3 game.
For any questions or inquiries, please contact:
press@nftinspect.xyz
DISCLAIMER
This announcement is not directed at any investors or potential investors, and does not constitute an offer to sell — or a solicitation of an offer to buy — any securities, and may not be used or relied upon in evaluating the merits of any investment. Any projections, estimates, forecasts, targets, prospects and/or opinions expressed in this release are subject to change without notice. The contents in here should not be construed as or relied upon in any manner as investment, legal, tax, or other advice.

Source link
#Inspect #partners #Ronin #Empower #MultiChain