Samsung's The Frame – Disney 100 Edition TV
2 min read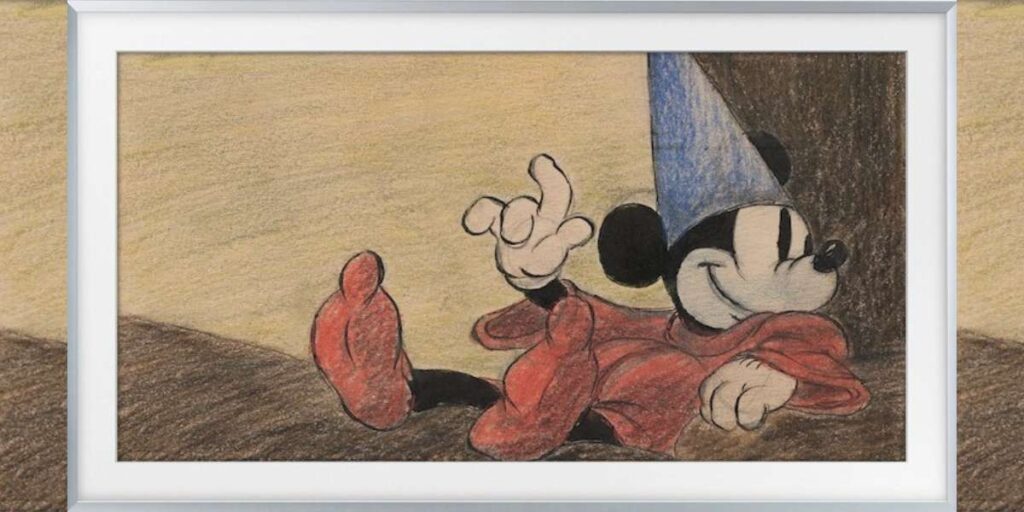 Disney fans who like to be at the forefront of technology and appreciate Samsung quality will be very interested in the new Samsung The Frame – Disney 100 Edition TV, a limited edition of the popular The Frame TV that celebrates Disney's 100th anniversary. This TV is a stunning display of 4K QLED picture quality and a showcase of 100 exclusive pieces of art from the Disney collection. Whether you are watching your favorite Disney movies and shows or displaying your favorite Disney characters and scenes on the screen as part of your Mickey Mouse-inspired decor, this TV will bring the magic of Disney to your home.
First, Disney made it clear they are moving away from physical discs. Now, the studio is venturing further into digital exclusive art. Is this the future of the Disney Fine Art business?
The Frame – Disney 100 Edition TV is available in 55, 65, and 75-inch class models and features a sleek branded bezel in platinum silver metal, a color that represents Disney's legacy and innovation. The TV also has a special edition remote inspired by Mickey Mouse, Disney's most beloved character. The remote has three buttons resembling Mickey's ears and nose and a finish matching the bezel.
The TV also has a unique startup screen that displays the Samsung x Disney100 logo and provides access to 100 individual art pieces from the Disney collection on the Samsung Art Store. The Art Store is an online platform that allows you to browse and purchase thousands of artworks from various genres, artists, and museums. With the Art Store, you can turn your TV into a digital art gallery when you are not using it.
Source link
#Samsungs #Frame #Disney #Edition