Zynga, FunPlus and NetEase veterans receive $8M investment for NFT dinosaur game | Pocket Gamer.biz
2 min read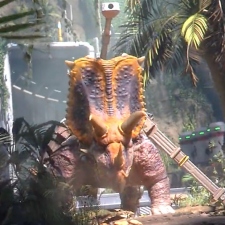 New Web3 gaming studio GamePhilos has raised $8 million in a Seed Round to help fund its free-to-play and NFT-based dinosaur game, Age of Dino.
The studio has been founded by veterans from across the industry, including previous members of NetEase, FunPlus, Zynga and ByteDance.
Readying to roar
In support of the new title, Xterio, Animoca Ventures, SevenX Ventures and Chain Hill Capital all shared in leading the round. Xterio's platform is also being used to bolster GamePhilos' dino romp, providing both the SDK and technical support.
In fact, Age of Dino is being developed in quite the team effort; FunPlus' staple strategy games engine has been used as the foundation for the game, meanwhile Imagendary Studios is taking on the role of art support for NFTs despite its skeleton crew status. Age of Dino even has an orchestrated soundtrack with an original symphony.
Hashkey Capital, Sanctor Capital, Game7, Bas1s, GSR and GSG Ventures also invested during the Seed Round.
Age of Dino is currently in development for mobile and PC, featuring Web3 integration in the form of its own in-game economy and players' NFT ownership. Gameplay will involve real-time battles between warring dinosaur factions, in-game trading and alliance-building, GamesBeat reported.
"We are thrilled to be partnering with such a proven team of expert strategy game developers, most of whom yield from FunPlus, and have led multi-billion-dollar properties. Age of Dino is a flagship title for the Xterio platform that will demonstrate how we successfully launch and operate massive free-to-play PC and mobile games with on-chain assets," said Xterio COO Jeremy Horn.
Although the metaverse and Web3 aren't quite the new, hot topics they were a few years ago, support and investments towards NFT-based games and platforms are still prevalent. Combining NFTs with the new AI trend, this summer FIFA AI Soccer League dev Futureverse raised $54 million in its Series A funding round. More recently, Animoca Brands has raised $20 million towards a new metaverse project, too.
And returning to the subject of giant reptiles, Niantic's latest AR game Monster Hunter Now is launching later this week, having reached 3 million pre-registrations.
Source link
#Zynga #FunPlus #NetEase #veterans #receive #investment #NFT #dinosaur #game #Pocket #Gamer.biz