Our regulation will not stifle growth in Blockchain, digital asset ecosystem – NITDA assures – Blueprint Newspapers Limited
2 min read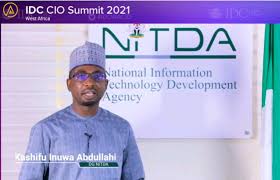 Director General of the National Information Technology Development Agency (NITDA) Kashifu Inuwa has assured players in the Blockchain and digital asset ecosystem that its regulatory framework is geared towards the general growth of the industry and not to stifle innovation.
"In NITDA we don't just do regulation, we do what we call developmental regulation. Meaning the regulation we are doing, is it going to bring development? Will it enhace productivity and transparency? Is it for the general good of the country?
"To buttess what I am saying, we have gone ahead to produce the first Blockchain strategy and policy," he said.
Inuwa who was represented by Mr Preye Itonyo, stated this Wednesday during the panel session at the Digital Asset Summit organised by Stakeholders in BlockchainTechnology Association of Nigeria (SIBAN) in Abuja.
Earlier in his speech, Inuwa said there was need to regulate the Blockchain industry to make boost confidence of both players and investors in the industry.
"We recognize the potential of this technology, hence the transparency in governance for full service delivery and to foster innovations in various sectors.
"Moreover we acknowledge the importance of building a regulatory framework that ensures responsibility and safe use of digital assets in our financial system," he said.
He reiterated that the agency was is fully committed to supporting and nurturing growth in the Blockchain and digital ecosystem in Nigeria.
"Your event underscores the transformative power of Blockchain technology and digital asset and the profound impact they are having on industries, economies and the society worldwide.
"As we gather here today, we find ourselves at a pivotal moment in history where technologies, finance and innovation are reshaping the very foundation of digital and global peace economy.
"Blockchain technology and its inherent principle, transparency , security and decentralization has emerged not only as a disruptive force that has the potential to revolutionised industries ranging from finance, healthcare, supply chain, management and governance, but also catalyst for trust, accountability and empowerment.
"Digital assets crypto currency are redefining the way we think about values, ownership and exchange. They are democratizing access to financial services , enabling financial transactions and empowering individuals to have greater control over their financial destinies.
"As we embrace this transformative technology, we must also be vigilant stewards about their development and adoption.
"It is incumbent upon us to ensure that Blockchain and digital assets are harnessed for the greater good . That the are secured, complaints and inclusive," he said.
Source link

#regulation #stifle #growth #Blockchain #digital #asset #ecosystem #NITDA #assures #Blueprint #Newspapers #Limited