Phantom Unveils one-click 'Sign in With Solana' Feature
2 min read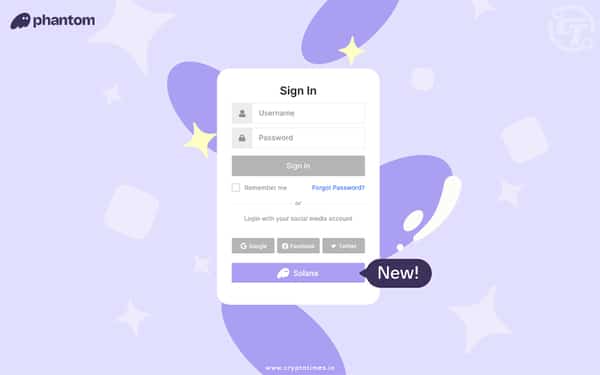 Wallet service provider, Phantom revealed on Monday the introduction of a fresh feature. This feature allows applications to authenticate users using their Solana address.
Named "Sign In With Solana" (SIWS), this feature seeks to improve user convenience and security by merging the standard "connect" and "signMessage" procedures into a seamless "signIn" action.
Today, we're excited to launch a new feature that lets apps securely authenticate their users with just a Solana address.
Sign In With Solana (SIWS) is a fast, easy, and secure solution to the problem of authenticating users with self-custody wallets. pic.twitter.com/VSzcTNLjji
— Phantom (@phantom) August 21, 2023
Traditionally, the connect function establishes communication between a user's digital wallet and an application. In contrast, the "signMessage" function enables the user to cryptographically verify their own identity.
According to its developers, the recently launched sign-in feature enhances authentication consistency and empowers Phantom to detect potentially suspicious activities. 
However, the messages involved frequently lack human-readable information, potentially leading both proficient and inexperienced users to accidentally accept malicious prompts.
Phantom has declared that, even when users establish connections between their wallets and reputable applications, unexpected popup prompts for signatures have the potential to generate confusion or discomfort, particularly among those who are inexperienced with the platform. 
Phantom's latest version, 23.11, introduces a one-click sign-in approach that enables Solana developers to easily prompt users for connection and authentication. By signing a standardized authentication message, users can verify their address ownership conveniently. 
This new method is designed to seamlessly replace the older two-step authentication process. Additionally, the sign-in method offers developers a reliable API to generate consistent authentication messages, as stated by the Phantom team.
Also Read: Solana's Saga Mobile is Now More Cheaper, Just $599


Source link

#Phantom #Unveils #oneclick #Sign #SolanaFeature