Walmart's Back-to-School Roblox Initiative Suggests Brands Haven't Abandoned the Metaverse
2 min read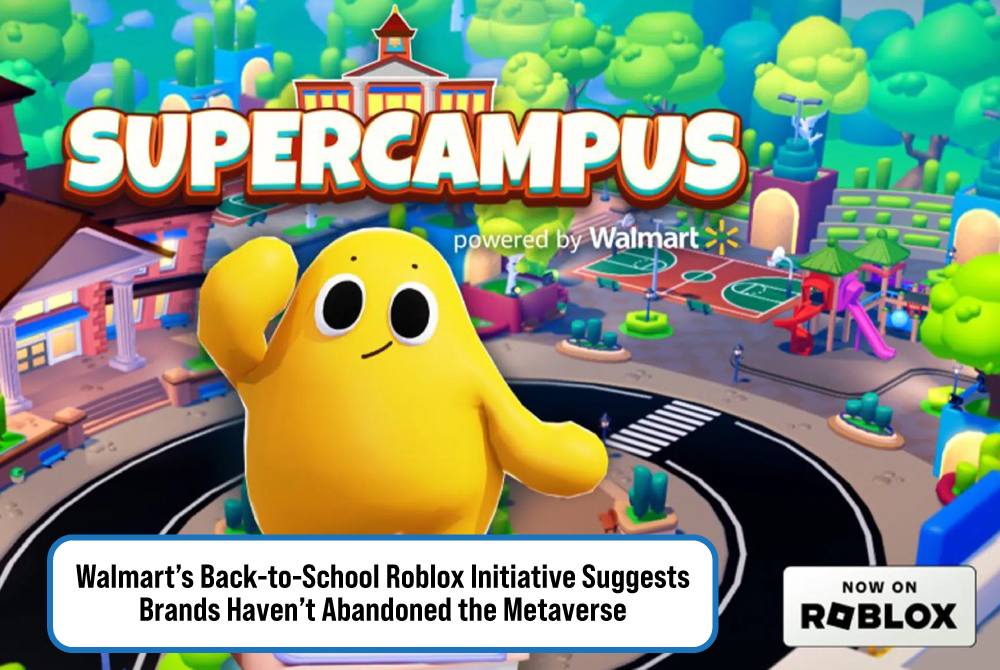 Even the metaverse is heading back to school. The excitement of the annual return can continue for Roblox players ages 13 and up on Walmart's latest metaverse initiative: Supercampus.
Players can compete in challenges while exploring the Supercampus universe filled with activities tied to arts and STEM in the ongoing adventure. They even have the opportunity to purchase some tried and true supplies from back-to-school favored brands like BIC, Crayola, 3M, and more.
"Walmart has always aimed to create engaging experiences for our customers and members; now, we're continuing to explore how to do that in the virtual worlds where they are spending more of their time, the company shared in an announcement of the new initiative.  
It appears last school year's rumors questioning the lasting allure of the metaverse weren't as big of a deal as people thought. Brand testing and experimentation are going strong in 2023 while players are definitely showing up—in fact, according to Active Player, there were over 200 million users on Roblox in August 2023 alone. 
Metaverse activations have taken on a number of different formats with notable brands entering the virtual realm for the first time. Retailer Boss partnered with the NFL and Gamefam to bring its BOSS x NFL hoodie to Roblox just in time for the season's kick off.
In its first foray in June, Fenty Beauty and Skin launched a four-week "experience" for Roblox users. Through mazes, scavenger hunts, and try-ons, players were able to intimately engage with and customize various product items. One player creation was eventually voted to production and will be released in 2024.
For its first-ever immersive experience, Shipt partnered with Driving Empire—Roblox's racing experience—to situate players as drivers purchasing back-to-school goods and snacks. 
Metaverse investment is likely to continue, especially as technology advances and adoption increases. The metaverse could be worth up to $900 billion by 2030, according to a recent report from Bain & Company. The research also highlights virtual experiences as the key opportunity for brands and companies—predicting this use case will account for 65% of the metaverse's market size. 
"This is an ongoing journey toward more immersive and collaborative experiences, enabled by rapid improvements in the underlying technology," commented Chris Johnson, a partner in Bain's Technology practice.
As we look to 2024 and beyond, expect to see more brands entering the virtual world.
Source link
#Walmarts #BacktoSchool #Roblox #Initiative #Suggests #Brands #Havent #Abandoned #Metaverse