App in trials for hospital patients to go on trips in the metaverse
3 min read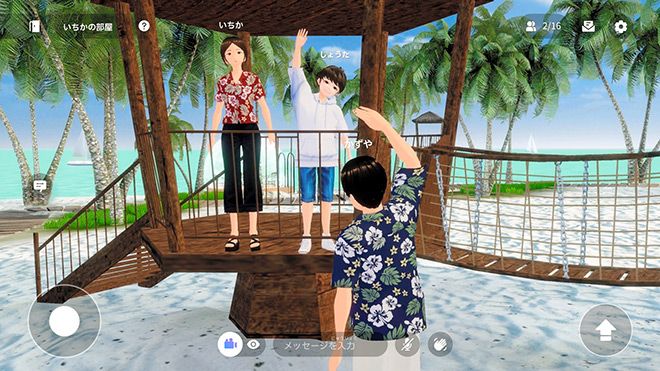 Hospital walls no longer have to be barriers to patients who dream of going on trips with their families or greeting visitors through a meeting app that is currently being tested. 
The application, Medical Meetup, started its trial run on Aug. 1 at Juntendo University Hospital in Tokyo, so users can see one another in a virtual reality space.
"Expanding the scope of visitors and the metaverse may allow hospitalized children to go on virtual school walks and trips with classmates, too," said Junya Fujimura, an associate professor of pediatrics at the hospital's Department of Pediatrics and Adolescent Medicine, expressing high expectations.
Through Medical Meetup, patients and guests can engage in conversations and exchange high fives through their avatars on a white beach with sprawling blue ocean waters on their app-installed smartphone displays.
They can design their graphical alter egos as they desire to "visit" the location resembling a seaside resort.
Patients and visitors are alike able to run about on the beach, spend time with oceanic creatures and take hot air balloon rides via interactions on screens.
Medical Meetup was created by Juntendo University and IBM Japan Ltd.
The developers embarked on a joint research program last year, with the aim of "creating new value through combining medicine with the metaverse."
VISIT HOSPITAL IN METAVERSE
A "virtual hospital" was put in place to replicate Juntendo University Hospital online under the endeavor.
Patients and their family members can tour the medical center virtually beforehand. Visual content on the details of treatment that are difficult to explain in person is likewise available there.
Medical Meetup is the latest example of such innovations, according to the developers.
Meeting with families and other close individuals can help patients relax and give them the strength needed to fight their illness. However, it is difficult for those undergoing cancer treatment and other advanced forms of treatment to easily see guests.
Visits to patients free from this limitation could even be restricted during times of infectious disease outbreaks.
Patients are at times hesitant about welcoming guests given their difficulties in preparing themselves for outsiders' visits. Family members, relatives and friends also may find it difficult to stop by hospitals during visiting hours due to work and other reasons.
Utilizing the app means patients can meet whomever they wish to despite visitation limitations. Appearing in the metaverse with their alter egos frees patients from concerns about their appearance.
Venturing out in virtual space can become more than just meetings: patients can feel as if they are on an outing.
The test of Medical Meetup started at the hospital's Pediatric Medical and Pediatric Surgery Center.
Non-hospitalized kids are barred from entry to children's wards for preventing the possible spread of pediatric infections. Young siblings and friends are thus deprived of chances of dropping in on patients.
In the August-October experiment, hospitalized children and their families are advised to install the app. Its user-friendliness and functionality will then be tested.
Scientific assessment, such as confirming how the app can contribute to stress reduction among young long-stay patients, will also be carried out.
"Space, underwater areas and other locations that are hard to reach in reality can be created in the metaverse," said an IBM Japan representative. "We will be offering more and more amusement opportunities."
Juntendo University Hospital is seeking to make Medical Meetup accessible to inpatients at different departments as well.
Source link
#App #trials #hospital #patients #trips #metaverse