Wondervari to Redefine the Metaverse Experience with Revolutionary 3D Modeling Platform 'Hummit' – KoreaTechDesk
2 min read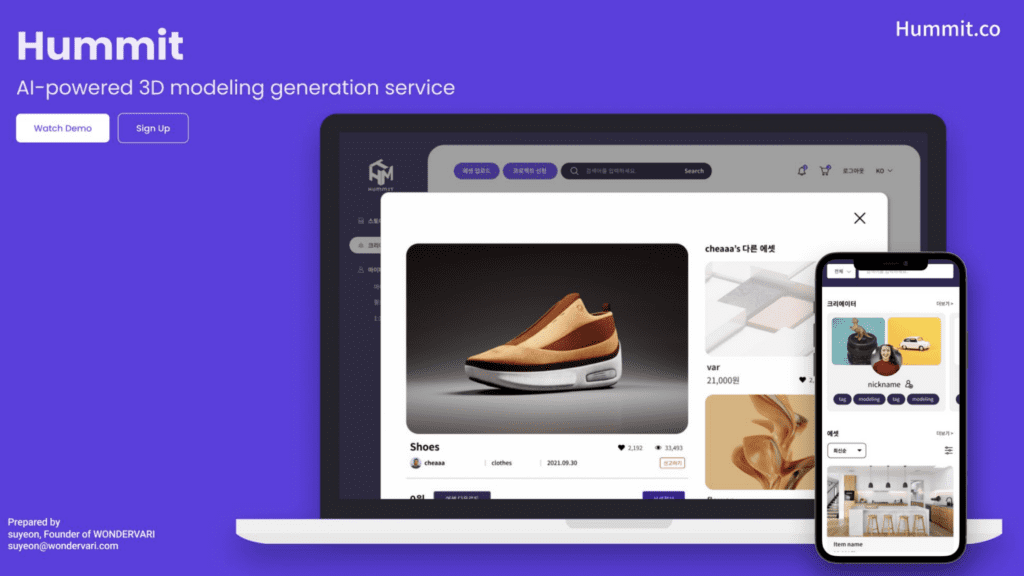 In the ever-evolving landscape of the virtual world industry, Korean startup Wondervari has unveiled 'Hummit,' a pioneering 3D modeling platform poised to transform the metaverse experience. 
As the metaverse, a long-envisioned concept, edges closer to becoming a tangible reality, users find themselves at a crossroads, contemplating their first steps. According to Wondervari CEO Kim Soo-yeon, the answer is simple: create your avatar and construct your virtual haven. But, such a venture seemed daunting for those lacking professional 3D graphics skills, and Wondervari's Hummit wants to simply it all.
Wondervari has been at the forefront of metaverse innovation, offering diverse services tailored to the metaverse and 3D domains. A standout offering in their portfolio is Hummit, a platform launched in January 2022. 
Hummit: The Solution for Metaverse Pioneers
Wondervari's Hummit is the solution for individuals seeking to create their virtual spaces without the need for extensive 3D graphics expertise. At its core, Hummit offers a '3D Market Store,' a unique space where users can buy and sell a diverse range of 3D designs spanning various concepts and categories. What sets Hummit apart is its seamless cloud storage integration, simplifying the management of purchased objects.
But Hummit is not just a marketplace; it's a platform designed for two-way communication, catering to creators and customers. Creators can effortlessly upload their 3D creations, set prices, and define licensing terms. The platform also provides valuable design resources to assist in portfolio creation.
Thanks to the powerful modeler search function, Hummit offers users a user-friendly interface to browse artists' portfolios and discover styles that resonate with them. Moreover, the platform allows users to search the store using various filters, including categories, formats, and prices, ensuring a tailored experience.
Hummit enables one-to-one matching through project applications, bridging the gap between creators and clients. More than 100 companies have expressed interest in 3D projects through Hummit, with dozens of projects awaiting collaboration.
Future Innovations and Expansions
Looking ahead, Wondervari has ambitious plans for Hummit and the metaverse. They are developing a 3D workspace that facilitates real-time collaboration, enabling multiple users to observe objects simultaneously and provide feedback.
Additionally, a 3D creation artificial intelligence (AI) tool is in the pipeline, allowing users to effortlessly generate objects from photos or sketches. Wondervari CEO Kim Soo-yeon emphasized their mission: "Our goal is to enhance the quality of experiences for virtual world users, fostering diversity and enjoyment." He added, "We are committed to streamlining 3D project management and collaboration for content companies, with plans to evolve into a comprehensive SaaS platform."
Read More,
Source link
#Wondervari #Redefine #Metaverse #Experience #Revolutionary #Modeling #Platform #Hummit #KoreaTechDesk