Ripple CEO Has Important Message For Crypto Community Regarding Regulation
3 min read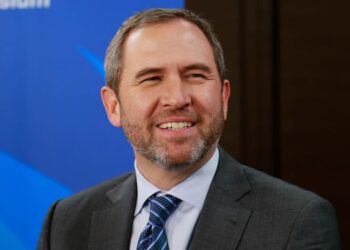 As the debate for implementing crypto regulation continues to surface, Brad Garlinghouse, CEO of Ripple, has recently shared his perspective. 
At a recent conference in Singapore, Garlinghouse highlighted the importance of crafting appropriate regulatory frameworks for the crypto industry.
The Necessity Of Proper Regulation
While appearing at Token 2049 in Singapore, Garlinghouse emphasized the inevitability of governmental involvement in crypto. Garlinghouse highlighted a prevailing sentiment among certain factions of the crypto community that vehemently opposes any form of regulation.
According to the Ripple CEO, this is a stance that, if perpetuated, may hinder the industry's long-term growth. Garlinghouse stated:
In my judgment, if we want this industry to thrive and fundamentally rewire how financial infrastructure works, we can't pretend like government regulation doesn't matter.
Garlinghouse stressed the importance of agreeing on foundational regulatory elements, referencing the ongoing disagreements that ripple through the crypto world. The Ripple CEO noted:
I still do find categories of the crypto community fighting on some of these basic regulatory frameworks.
Anti-Money Laundering (AML) and Know Your Customer (KYC) are established protocols in the traditional financial sector to combat financial crimes and ensure transparency. Garlinghouse believes that their inclusion within the crypto sector is paramount.
With Ripple currently navigating a legal battle with the US Securities and Exchange Commission (SEC), Garlinghouse articulated:
AML is going to matter, KYC is going to matter. If you're taking the point of view that we're going to circumvent those things, that's not the industry I see out 5 to 10 years from now that really is thriving and growing.
Entrepreneurial Ventures And The US Landscape
Garlinghouse also touched upon the challenging environment for crypto entrepreneurs in the United States. Given the current regulatory atmosphere, Garlinghouse advised crypto founders to "think twice" about establishing ventures on US soil. The CEO of Ripple emphasized:
The only country I would not encourage people to start a company right now is the US. There's probably some others, but the US is a big one to call out.
This is just one of Garlinghouse's verdicts over the past few days.  As reported yesterday, the Ripple CEO also shared insights on the ongoing appeal by the SEC regarding a court decision by Judge Analisa Torres.
Garlinghouse voiced his dissatisfaction with the SEC, mentioning its relentless pursuit despite Ripple's legal victory costing them over $100 million in fees. Although challenged, Garlinghouse is hopeful, emphasizing that the judge has clarified that XRP isn't a security in the North American country. 
The SEC's appeal focuses on specific circumstances and potential investment contracts. Garlinghouse is confident that ascending the US appellate court system, known for its conservative stance, works in Ripple's favor. Garlinghouse firmly believes in Ripple's position, stating, "The facts are on our side, and so is the law."
Featured image from CNBC, Chart from TradingView
Source link

#Ripple #CEO #Important #Message #Crypto #Community #Regulation