China looks to implement its social credit system in the metaverse
4 min read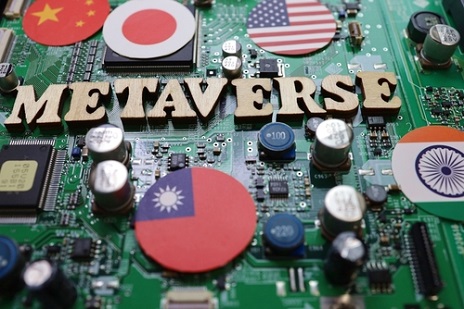 Get all the essential market news and expert opinions in one place with our daily newsletter. Receive a comprehensive recap of the day's top stories directly to your inbox.
Sign up here!
(Kitco News) – China is well known for its social credit system that is used to keep citizens in line at the risk of facing public approbation and limitations on what they can do. Now the country is looking to impose a similar system to manage users in the metaverse.
According to a report from POLITICO, Chinese state-owned telecoms operator China Mobile has drafted a proposal for a "Digital Identity System" for all users of online virtual worlds, aka metaverses, that would work with "natural characteristics" and "social characteristics" that include a range of personal data points like a person's occupation, "identifiable signs" and other attributes.
The proposal also includes a suggestion that this information be "permanently" stored and shared with law enforcement "to keep the order and safety of the virtual world."
China Mobile said that such a digital identity system would allow police or government officials to identify individuals who "spread rumors and makes chaos in the metaverse" and punish them accordingly.
The proposal arose out of discussions between tech experts and officials at the International Telecommunication Union (ITU), a telecoms agency operated by the United Nations that sets global rules for how technology is operated.
ITU's metaverse focus group launched in December and is intended to be the central forum for regulators, academics, non-governmental organizations and technology companies to negotiate the standards for a hypothetical immersive internet.
Due to the ITU's influential role in defining the ground rules for global telecommunications and technology infrastructure, it has become a battleground between China and the U.S. over the future of the internet.
Both public and private actors in China have pursued setting global standards on fledgling technologies at the ITU, a move that Western officials have sounded the alarm about, warning that China is looking to promote a government-controlled version of the internet and telecommunications.
An expert review of the proposal determined that it risks violating the principles of privacy and freedom to connect that have become mainstays of the internet in the Western world.
"To build a unified digital identity system, to give each human a unique digital ID that includes social characteristics from social media and occupation – that sounds a lot like China's social credit system," said Chris Kremidas-Courtney, a senior fellow at Brussels think tank Friends of Europe.
A vote on the proposal from China Mobile, which was first put forward on July 5 at the second meeting of the ITU's metaverse focus group held in Shanghai, will likely take place at the ITU's next meeting, which is scheduled to take place in Geneva in October.
According to statements made by an anonymous technology expert who is familiar with the matter, Chinese organizations are filing more proposals than U.S. or European participants, which could give Beijing an edge in the long run.
"They are trying to play the long game," the expert said. "When the metaverse comes around, they'll say, 'these are the standards.' Imagine a metaverse where your identity protocols are set and monitored by Chinese authorities. Every government must ask themselves – Is that the kind of immersive world we want to live in?"
Kremidas-Courtney noted that China has expressed its intentions to become the world leader in metaverse development, and said, "If you want to seize the future, you set the standards for it." He added that this proposal aligns with China's plans for a state-controlled digital yuan.
But some have warned that the moves by China have diminished the standing of the ITU on the global stage. According to Matt Sheehan, a fellow at the Carnegie Endowment for International Peace who has covered China's work in standardization bodies at length, China's activities in the ITU have caused the union a significant amount of damage.
"Chinese actors flood it with bad proposals, often because they get government subsidies for filing them," he said. "But the result is that [U.S. and European] technology companies just don't pay attention to ITU standards anymore."
Disclaimer: The views expressed in this article are those of the author and may not reflect those of Kitco Metals Inc. The author has made every effort to ensure accuracy of information provided; however, neither Kitco Metals Inc. nor the author can guarantee such accuracy. This article is strictly for informational purposes only. It is not a solicitation to make any exchange in commodities, securities or other financial instruments. Kitco Metals Inc. and the author of this article do not accept culpability for losses and/ or damages arising from the use of this publication.
Source link
#China #implement #social #credit #system #metaverse